High Voltage Pulse Generators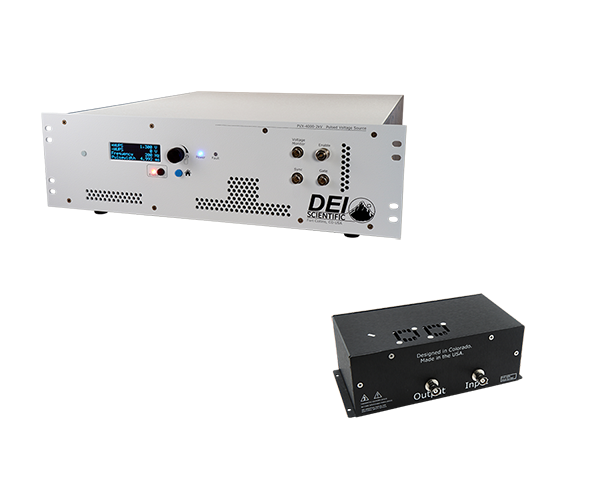 DEI Scientific offers a variety of High Voltage Pulse Generator Instruments designed for high voltage and precision applications such as Time of Flight, Q-Switches, Pockels Cells, acoustic transducers, microchannel plates, photomultiplier tubes and image intensifiers.
These instruments are perfect for research & development, characterization, and testing of dielectrics as well as many other high voltage pulsed applications.
We offer instruments, standard modules and OEM modules tailored through our Lab to Launch program.
Our High Voltage Pulse Generators are sorted by Voltage by default but you can sort any column by clicking the column header or search by part number or parameter in the search field on the right.
Filter by Voltage (V), Maximum Frequency (kHz), Form Factor, Computer Control, Trigger and Polarity with the filter selection tool.
* The specifications listed below represent the highest performance point. Consult the datasheet and/or operating manual to see full safe operating area (SOA) information.
Image
Name
Description
Max Voltage Amplitude
Max/Min Pulse Width
Max/Min Frequency
Rise/Fall Time
Pulse Engine (Trigger)
Pulse Polarity
Remote Control
Form Factor
Datasheet
Operating Manual
hf:att:pa_max-voltage-amplitude
hf:att:pa_max-min-frequency
hf:att:pa_rise-fall-time
hf:att:pa_pulse-engine-trigger
hf:att:pa_pulse-polarity
hf:att:pa_remote-control
hf:att:pa_form-factor

PVX-4141 | ±3,500V Pulse Output

The PVX-4141 3.5kV pulse generator is a direct coupled, air cooled, solid state half-bridge (totem pole) design, offering equally fast pulse rise and fall times and low power dissipation.

3,500V

25ns

External

Bipolar (+/-)

N/A

Benchtop

,

Rackmount

Datasheet

Manual

3500-2v
25ns
external
bipolar
na
benchtop|rackmount

PVX-4150 | ±1,500V Pulse Output

The PVX-4150 1.5kv high voltage pulse generator is a direct coupled, air cooled, solid state half-bridge (totem pole) design, offering equally fast pulse rise and fall times and low power dissipation.

1,500V

25ns

External

Bipolar (+/-)

N/A

Benchtop

,

Rackmount Optional

Datasheet

Manual

1500-2v
25ns
external
bipolar
na
benchtop|rackmount-optional

PVX-4130 | ±6,000V Pulse Output

The PVX-4130 6kV pulse generator is a direct coupled, air cooled, solid state half-bridge (totem pole) design, offering equally fast pulse rise and fall times and low power dissipation.

6,000V

60ns

External

Bipolar (+/-)

N/A

Benchtop

,

Rackmount Optional

Datasheet

Manual

6000-2v
60ns
external
bipolar
na
benchtop|rackmount-optional

PVX-4110 | ±10,000V Pulse Output

The PVX-4110 10kV pulse generator is a direct coupled, air cooled, solid state half-bridge (totem pole) design, offering equally fast pulse rise and fall times and low power dissipation.

10,000V

60ns

External

Bipolar (+/-)

N/A

Benchtop

,

Rackmount Optional

Datasheet

Manual

10000-3v
60ns
external
bipolar
na
benchtop|rackmount-optional

PVX-2506 | +50V Pulse Output

The PVX-2506 is designed with a bi-directional MOSFET output stage using DEI's DE-Series Fast Power MOSFETs.

50V

200ns

External

Positive (+)

N/A

Benchtop

,

Rackmount

Datasheet

Manual

50v
200ns
external
positive
na
benchtop|rackmount

PVX-4000-2kV-EX | 2kV Bipolar Pulse Generator

The PVX-4000-2kV is an air cooled, high voltage pulse generator. Optimized for driving high impedance capacitive loads up to ±2000 V.

±2000V

≤50ns

External

,

Internal

Bipolar (+/-)

RS232

,

USB

Benchtop

,

Rackmount

Datasheet

Manual

%c2%b12000v
%e2%89%a450ns
external|internal
bipolar
rs232|usb
benchtop|rackmount

PVM-1001-N | -950V and 10ns

The PVM-1001 can achieve zero to -950V in less than 10ns (Rise Time). This adjustable pulsed voltage source is capable of providing pulse widths from 55ns to 10,000ns with a standard frequency range up to 1 MHz.

950V

9ns

External

Negative (-)

N/A

Module

Datasheet

Manual

950v
9ns
external
negative
na
module

PVM-4210 | ±950V

The PVM-4210 pulse generator module provides two pulse output channels, controlled by a common control logic.

950V

25ns

External

Bipolar (+/-)

N/A

Module

Datasheet

Manual

950v
25ns
external
bipolar
na
module

PVM-1001-P | +950V and 10ns

The PVM-1001 can achieve zero to +950 V in less than 10 ns (Rise Time). Capable of providing pulse widths from 55ns to 10,000ns with a standard frequency range up to 1 MHz.

950V

9ns

External

Positive (+)

N/A

Module

Datasheet

Manual

950v
9ns
external
positive
na
module

PVX-4000-2kV | 2000V Bipolar Pulse Generator

The PVX-4000-2kV is an air-cooled, high voltage bipolar pulse generator. Optimized for driving high impedance capacitive loads at up to ±2000 V.

2,000V

50ns

External

,

Internal

Bipolar (+/-)

RS232

,

USB

Benchtop

,

Rackmount

Datasheet

Manual

2000-3v
50ns
external|internal
bipolar
rs232|usb
benchtop|rackmount