HPL-2400 High-Power Laser Diode Emulator and Load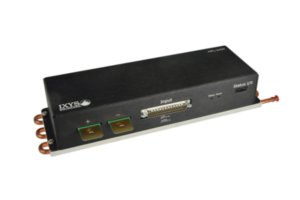 Fort Collins, CO, December 11, 2012 – IXYS Corporation (NASDAQ:IXYS), a leader in power semiconductors, mixed-signal and digital ICs for power conversion and motion control applications, announced today the introduction of the HPL-2400 High-power Laser Diode Emulator and Load by its IXYS Colorado division. This module can dissipate up to 2400 watts of power at precise load configurations to match any number of laser diodes and other high-power loads.
"The HPL-2400 provides customers with a versatile, precision high-power load designed for high reliability and repeatable testing results. By utilizing the HPL-2400 rather than a high-power laser diode when testing fixtures, diode drivers or characterization setups, users can eliminate the risk to expensive diodes and obtain data using known load characteristics. Furthermore, this product is a high power dissipation load that can help our customers in testing and developing other power systems products," commented Stephen Krausse, General Manager IXYS Colorado.
The HPL-2400 product line features allow flexible, reliable, high-power loads that meet demanding needs with a standard product. Seven standard load values including .125, .250, .500, 1, 2, 5 and 10 ohms are available. Custom values from .125 to 250K ohms can be configured at the factory in order to directly match specific load characteristics (i.e. laser diode). The status monitor allows users to monitor the temperature of the heat sink and provides a warning when the temperature exceeds 60C. The module is enclosed to protect the components and ensure reliable, long-term use. Liquid cooling and a 2400 watt load rating allow for use in a wide variety of applications from very low power to the full rating of the module. The low-inductance design enables the testing of high-speed pulsed applications.
HPL-2400 Features:
2400 watt resistive load
Ring lug or DSUB connections
Very low-inductance for use in fast rise and fall time pulsed applications
RoHS compliant
Liquid cooled
Self contained and enclosed
7 standard models
Factory configurable variations from .125 ohms to 250K ohms
Status connection monitors heat sink temperature and provides high temperature warning
Safe Harbor Statement
Any statements contained in this press release that are not statements of historical fact, including the performance, rating, availability, reliability, operation and suitability of products for various applications, may be deemed to be forward-looking statements. There are a number of important factors that could cause the results of IXYS to differ materially from those indicated by these forward-looking statements, including, among others, risks detailed from time to time in the Company's SEC reports, including its Form 10-Q for the quarter ended September 30, 2012. The Company undertakes no obligation to publicly release the results of any revisions to these forward-looking statements.