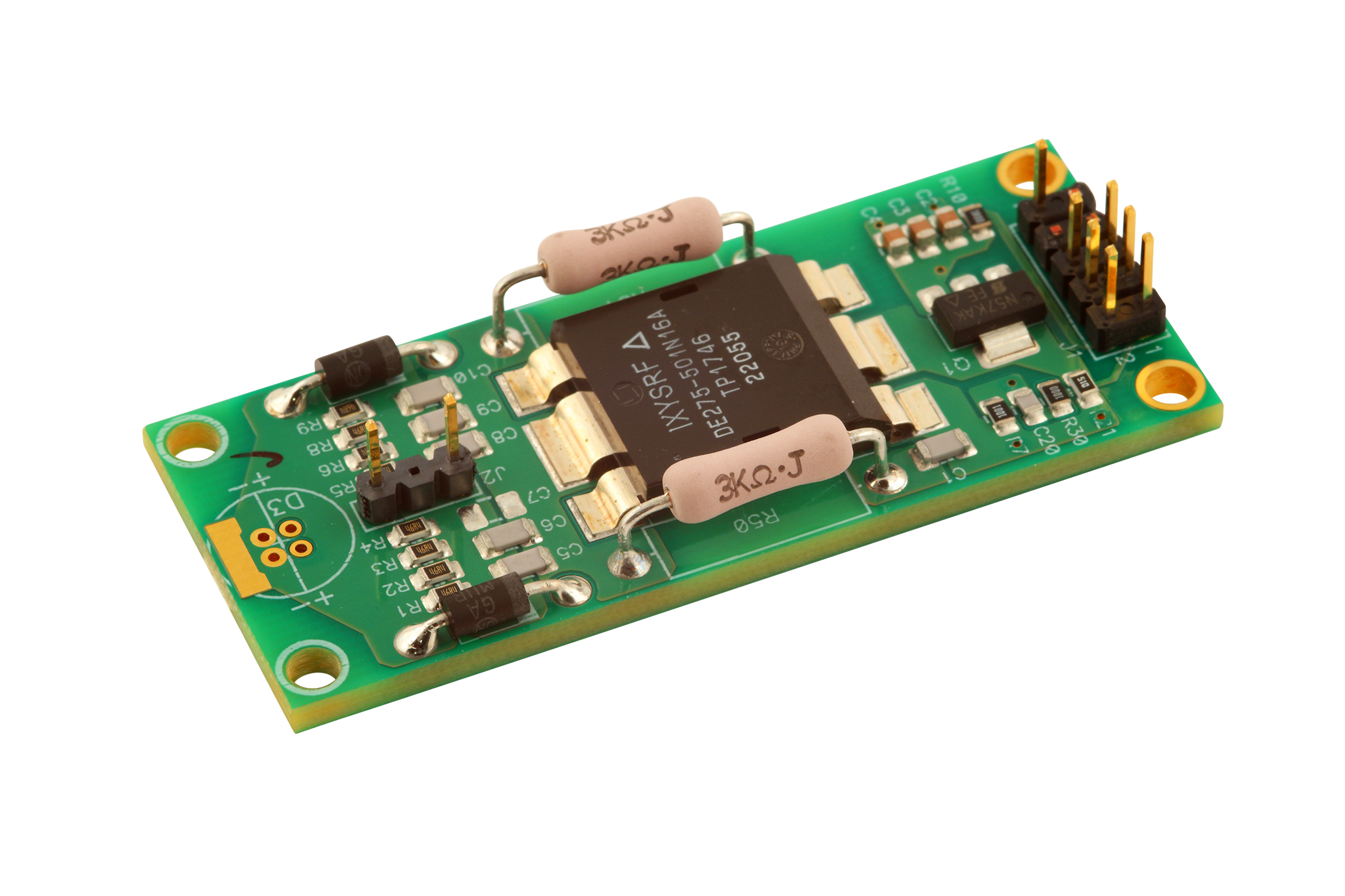 The PCO-7111 Series is being phased out of production due to component availability. Please see the PCO-7114 Series or visit our Lab to Launch page for new development and contact us for last time purchase information.
The PCO-7111 series are compact OEM pulsed laser diode driver modules. With a thicker printed circuit board and optimized component positioning, the PCO-7111 offers enhanced reliability improvements over the popular PCO-7110 Series. The modules are designed to provide extremely fast, high current pulses for driving laser diodes in range finder, LIDAR, atmospheric communications and other applications requiring high-current nanosecond pulses.
Need a pulse width and current range that isn't shown on the table? Visit our Lab to Launch page and learn how we can help provide you with a PCO-7111 that meets your specific production/OEM requirements.
Applications
Range finders
LIDAR (Light Detection And Ranging)
ADAS (Advanced driver-assistance systems)
Other applications requiring high-current nanosecond pulses
Features
High Speed
Narrow Pulse
Designed for OEM
---
Our PCO-7111 Laser Diode Drivers are sorted by Compliance Voltage by default but you can sort any column by clicking the column header or search by part number or parameter in the search field on the right.
Filter by Compliance Voltage (V), Maximum Current (A), Maximum Frequency (kHz), Minimum Pulse Width (PWm), Computer Control and Form Factor with the filter selection tool.
Image
Name
Description
Compliance Voltage (V)
Max Current (A)
Max Frequency (kHz)
Min Pulse Width (ns)
Computer Control
Form Factor
Datasheet
Operating Manual
hf:att:pa_compliance-voltage
hf:att:pa_maximum-current
hf:att:pa_maximum-frequency-khz
hf:att:pa_minimum-pulse-width-pwm
hf:att:pa_computer-control
hf:att:pa_form-factor

PCO-7111-100-10

The PCO-7111-100-10 is a compact OEM pulsed laser diode driver module featuring 100 Amps (A) of output to the diode at a fixed pulse width of 10 nanoseconds (ns).

Limited Availability – Find out more here.

5

100

5

10

N/A

Module

5
100
5
10
na
module

PCO-7111-50-10

The PCO-7111-50-10 is a compact OEM pulsed laser diode driver module featuring 50 Amps (A) of output to the diode at a fixed pulse width of 10 nanoseconds (ns).

Limited Availability – Find out more here.

5

50

11

10

N/A

Module

5
50
11
10
na
module

PCO-7111-40-5

The PCO-7111-40-5 is a compact OEM pulsed laser diode driver module featuring 40 Amps (A) of output to the diode at a fixed pulse width of 5 nanoseconds (ns).

Limited Availability – Find out more here.

5

40

50

5

N/A

Module

5
40
50
5
na
module