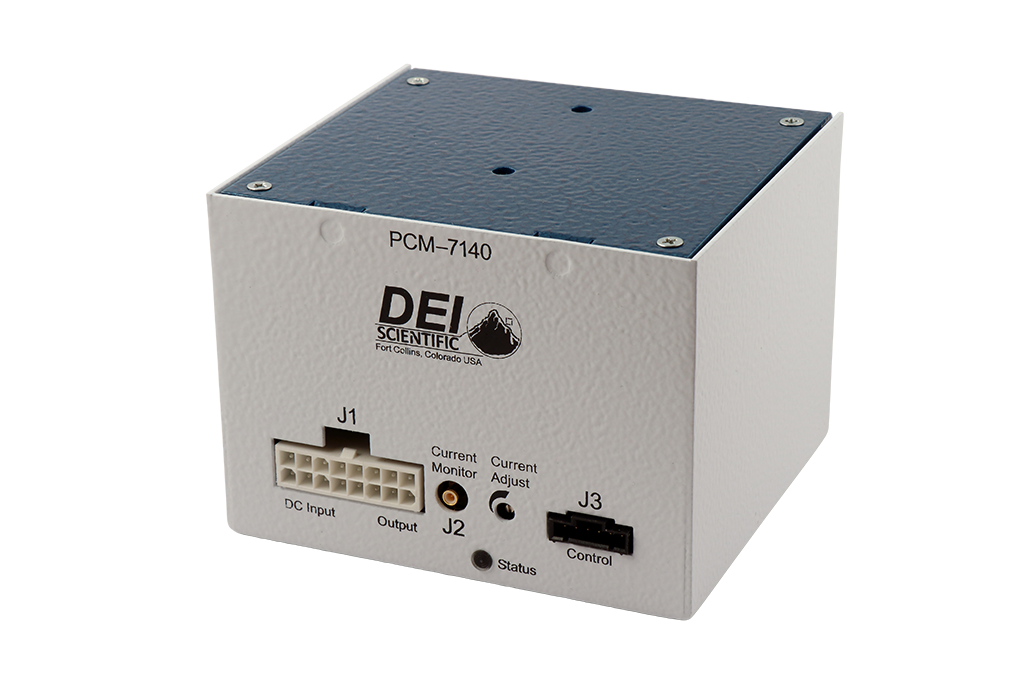 The PCM-7140 Series provides a compact pulsed and QCW current source designed to drive laser diodes, bars, arrays, or any low impedance load.
The output current may be set with an internal potentiometer or an external analog voltage. The pulse width is controlled with an external trigger source.
The system requires two DC supplies for operation: 12 V for housekeeping and a voltage ≤ 20 V above the laser diode's forward voltage.
The laser or load is connected to the PCM-7140 with a 100 cm length of 18 AWG twisted pair cable (included). This same cable has the DC input connection from the high voltage power supply.
The PCM-7140 module is liquid cooled with a liquid temperature of 11 °C to 22 °C with a flow rate of 6 liters per minute. The connection type is 3/8" tubing.
Need a pulse configuration that isn't shown on the table? Visit our Lab to Launch page and learn how we can help provide you with a PCM-7140 that meets your specific production/OEM requirements.
Applications
Range finders
LIDAR (Light Detection And Ranging)
ADAS (Advanced driver-assistance systems)
Other applications requiring high-current nanosecond pulses
Features
Duty Cycles to DC
High Peak Power
Water Cooled for Clean Environments
Designed for OEM
---
Our PCM-7140 Laser Diode Drivers are sorted by Compliance Voltage by default but you can sort any column by clicking the column header or search by part number or parameter in the search field on the right.
Filter by Compliance Voltage (V), Maximum Current (A), Maximum Frequency (kHz), Minimum Pulse Width (PWm), Computer Control and Form Factor with the filter selection tool.
| Image | Name | Description | Compliance Voltage (V) | Max Current (A) | Max Frequency (kHz) | Min Pulse Width (ns) | Computer Control | Form Factor | Datasheet | Operating Manual | hf:att:pa_compliance-voltage | hf:att:pa_maximum-current | hf:att:pa_maximum-frequency-khz | hf:att:pa_minimum-pulse-width-pwm | hf:att:pa_computer-control | hf:att:pa_form-factor |
| --- | --- | --- | --- | --- | --- | --- | --- | --- | --- | --- | --- | --- | --- | --- | --- | --- |
| | PCM-7140-1 | 0.1 A to 1 A, 1 µs to DC OEM Laser Diode Driver Module | 60 | 1 | 100 | 1,000 | N/A | Module | | | 60 | 1 | 100 | 1000-3 | na | module |
| | PCM-7140-200 | 5 A to 200 A, 25 µs to 13 ms OEM Laser Diode Driver Module | 55 | 200 | 5.5 | 25,000 | N/A | Module | | | 55 | 200 | 5-5 | 25000-2 | na | module |
| | PCM-7140-10 | 1 A to 10 A, 3 µs to DC OEM Laser Diode Driver Module | 60 | 10 | 100 | 3,000 | N/A | Module | | | 60 | 10 | 100 | 3000 | na | module |